When we started renting and selling stand-up padd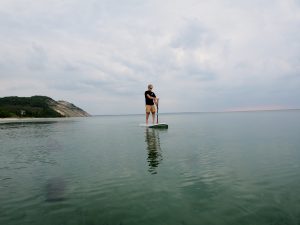 leboards in 2007, everyone was intimidated by the oversized surfboards. Since then, stand-up paddleboarding has taken off in Northern Michigan and is the fastest growing sport in the nation!
Our large fleet of  Stand-Up Paddle Board rentals are the perfect way to view the lakeshore and the beautiful, clear waters of Lake Michigan. It is an ideal way to perfect your experience 'Up North.' Not only can you see the Empire Bluffs, the Sleeping Bear Dunes and the vast lakeshore in between, but stand-up paddleboarding allows you to see everything beneath you as well. But don't be worried… There are no sharks, dangerous creatures, salt, coral or large rock masses to create anxiety during your peaceful paddle! For another paddleboarding experience, we've got South Bar Lake right next door – a beautiful, calm inland lake with an incredible ecosystem. And you don't have to limit yourself to calm water either.  Try going out in the waves with our all-around boards. Catch some waves on your knees or feet. Surfing on a stand-up paddleboard is over the top fun, too!
When renting a SUP, we will give you a quick overview of how to use and care for the board, paddle and other equipment, as well as tips and techniques when paddling and surfing the board.
For boards going to Empire beach, we recommend and appreciate if you take advantage of the simple carts we supply and walk the boards to the beach (we are located a mere block away) or we can strap them on top of your vehicle if you plan on driving down from town. We are also happy to drop them off for you if necessary.
Stand-Up Paddleboard
$35 – Half Day
$49 – Full Day
$200 – One Week (5 days)